I'm going to do a Review/Comparison on 3 liquid eyeliners I own at the moment which are (in order in which I purchased and they're all black): Rimmel Professional Liquid Eye Liner, L'oreal Carbon Black Lineur Intense Felt Tip Liquid Eyeliner, and L'oreal Carbon Black Telescopic Precision Liquid Eyeliner.
In terms of price I think the Rimmel is the cheapest, followed by L'oreal Lineur Intense and then L'oreal Telescopic. The prices do vary on where you go.
The packaging is nice on all three, shiny and black. I may favor the Lineur Intense over the three just a tiny bit because the handle is not completely round. As it goes to the tip it kind of flattens out so it's easier for me to hold and also to open.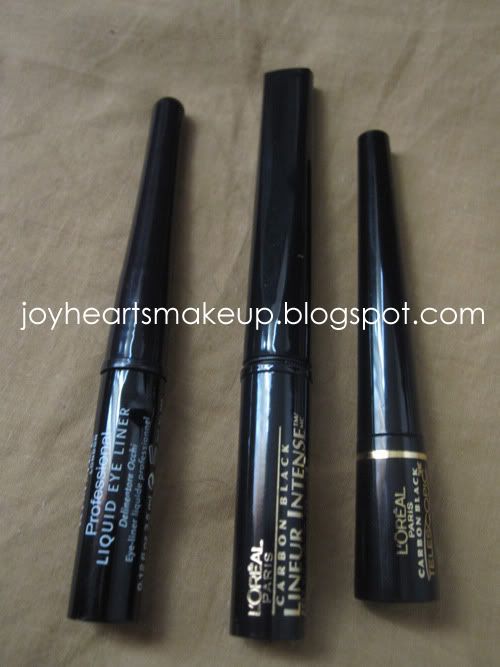 Now let's take a look at the brush. Rimmel has the thinnest brush and also the only one out of the three that has bristles. The other two have a sponge-like applicator. Lineur Intense has a long bendable sponge brush that's rounder at the tip compared to Telescopic. The Telescopic is obviously much shorter compared to the two and it's stiffer so it doesn't bend as you apply. It has the most pointy tip.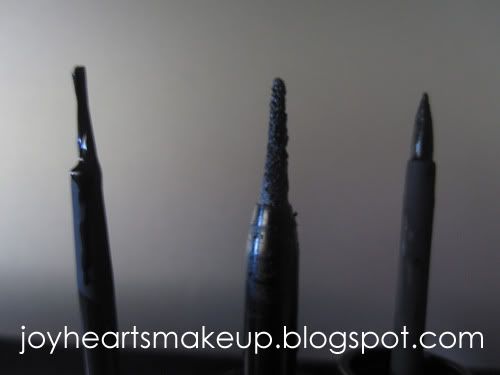 Here they are side by side with two swipes. Rimmel, Lineur Intense, and Telescopic. As you can see, Lineur Intense is the only one that doesn't dry matte. It's really shiny and it's the blackest out of the three. However, I think it's the most difficult out of the three to apply because the tip is kind of rounded. I have a difficult time making a winged eyeliner look with this. Or it may just be me and I need more practice, but I have used it for a while and I still have difficulties sometimes. Another thing is that you have to shake the bottle to get product on the brush, which I find a hassle sometimes.
Telescopic dried the fastest, and you have to be careful with this eyeliner because since it does dry so fast it's hard to edit your mistake. So I wouldn't recommend this for beginners. It's the best at making a wing because the tip is so pointy and the brush is stiff, that way you can really control the shape of your wing. However, I think this one is the most difficult in making a straight line on your lid even though it's good at making a wing. What I love about this one is that I can get really close to the lash line because of the stiff brush.
The Rimmel probably has the wettest formula. It takes the longest to dry and is the most prone to smudging. It dries matte similar to Telescopic. I think this is the best out of the three for beginners. I would recommend the Lineur Intense but the shiny finish is too much for beginners in my opinion, unless you want that look of course.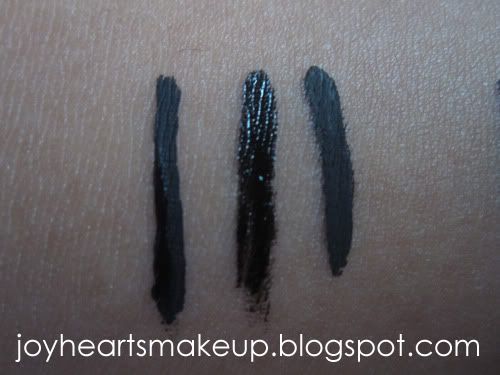 I tried to draw a thin line and the Rimmel creates the thinnest, second being Telescopic and then Lineur Intense. Although Lineur Intense is very black it's hard to create a thin line thus making it difficult to make a wing. Hollyannaeree is a pro at it though I don't know how she does it.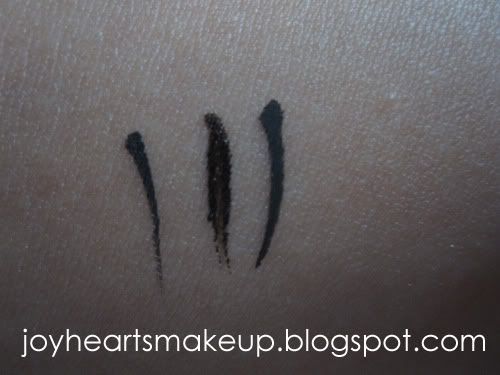 Now here I'm testing out the staying power. With just one swipe (with paper towel) Lineur Intense rubs off VERY easily. It kind of peels off rather than smudged off. Rimmel doesn't completely come off but it does smudge. Telescopic doesn't even budge! The staying power is amazing but like I said, it's difficult to remove when you make a mistake.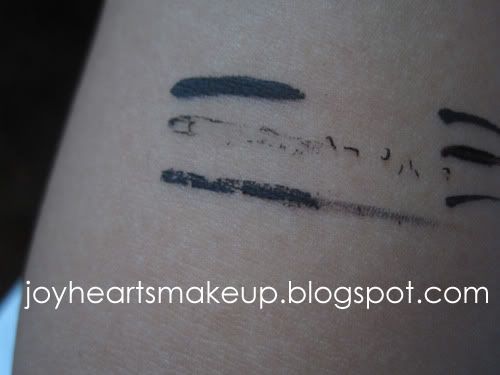 Here is a second swipe. Lineur Intense is almost completely gone, Rimmel is coming off, and Telescopic still hasn't budged lol. Btw don't mind the smaller lines, that's the swatch for the thinner application. I swiped it once in this picture.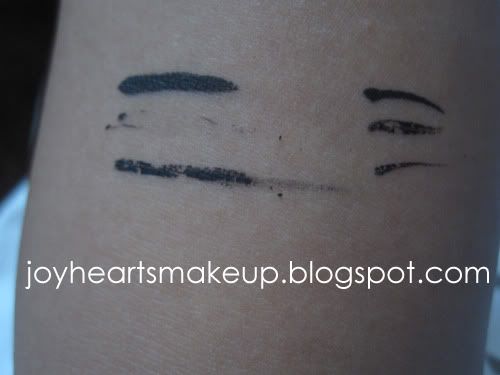 Finally, I rubbed it vigorously (you can see my skin is kind of red lol). Lineur Intense is completely gone! Rimmel left a subtle stain and Telescopic is clearly still visible. Telescopic can be easily removed with water, but it won't be completely gone. With makeup remover it's easy to remove, since you should be using makeup remover to remove makeup anyway, this shouldn't be a problem. I should point out that although Lineur Intense does rub off easily, it's pretty water-resistant and it only easily comes off when it's rubbed.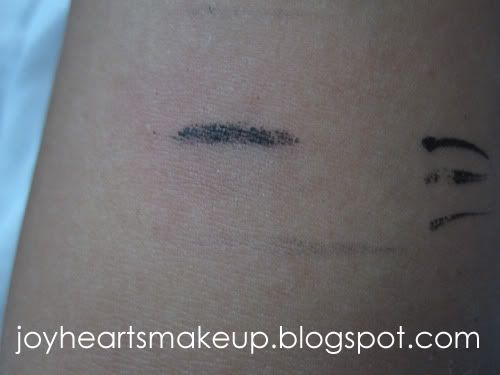 So here's an overview:
Rimmel Professional:
Brush applicator is made out of bristles; bendable
Thinnest application
Dries matte
Most wet formula / Dries the slowest
Smudges
Cheapest out of the three
L'oreal Carbon Black Lineur Intense Felt Tip:
Sponge brush applicator; bendable; rounded tip
Most intense black
Shiny finish
Thickest application out of the three
Difficult for winging out eyeliner
Rubs off easy
Water-resistant
L'oreal Carbon Black Telescopic Precision:
Sponge brush; small length; stiff; pointy tip
Dries really fast
Hard to edit mistakes so it's not for beginners
Best staying power
Easiest for creating a wing but not that good at creating a straight line on the lid
Most expensive out of the three
I would recommend Rimmel or Lineur Intense because they're easier to use and remove. Just be careful not to smudge or rub them off. Plus they're the most affordable. Telescopic is the most expensive but has the best staying power. It's better for more experienced people because it dries fast and makes editing mistakes very difficult. Thanks for reading! :)